Realtors countywide collect thousands of pounds of food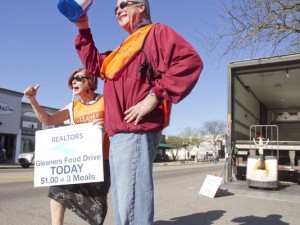 For the 13th year in a row, Realtors from across Livingston County collected thousands of pounds of food and money for Gleaners Community Food Bank.
Around 60 local Realtors volunteered for the annual Fill the Gazebo Food Drive last Saturday.
"Everything we collected — all the money and all the food — stays local. It helps feed people right here in Livingston County," said Pam Leach, executive vice president of the Livingston County Association of Realtors, which sponsors the fundraiser.
Online donations are accepted throughout the year at www.gcfb.org/FilltheGazebo.
A gazebo on a trailer visited downtown Howell and a semi-truck was set up by the Mill Pond Gazebo in downtown Brighton. There were numerous drop off locations around Livingston County, including the Krogers in Brighton, Howell, Hartland Township and Hamburg Township; Wal-Mart in Genoa Township and Hamburg Township; GFS Marketplace in Genoa Township; and VG's in Howell.
Some of the Realtors got silly in order to draw attention.
"Elvis was with us for the second time. Some of the Realtors were dancing in the street. Some brought their kids and grandkids, or there was a puppy, to help encourage people," Leach said.
"The first thing we got in downtown Howell was a $100 bill. Other people gave us quarters or the change from their ashtray," Leach said, adding that every $1 donated to Gleaners Community Food Bank equals three meals.
In addition to the food and cash donations given at each site, more donations are expected to come in through the website.
This year's Fill the Gazebo Food Food Drive has brought in "almost 3,000 pounds of food and almost $15,000," Leach said.
Contact Livingston Daily county and townships reporter Jennifer Eberbach at 517-548-7148 or at jeberbach@livingstondaily.com. Follow her on Twitter @JenTheWriter.
Via Livingston Daily